I'm Dreaming...............
Posted by Stephaney Abilon on
The music begins....popcorn in one hand, bubbly in the other, surrounded by good friends, it's time for the annual screening of White Christmas.
This year, we decided to dress the part, so pulling on sheer stockings, pearls and cashmere, we gathered at the Terrace Theater in Charleston. Technicolor! VistaVision wide screen technology! This is a totally different experience than sitting on the couch in your pajama's, this is White Christmas on the big screen!
This event is one of my favorite
intentional holiday spirit fest
happenings this month, and this film pulls at my heartstrings of nostalgia.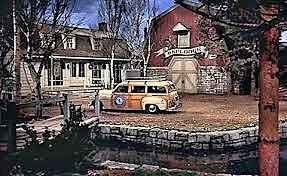 The Inn! The Barn!  The Taxi! 
The Inn:
The Columbia Inn located in Pine Tree Vermont. Yes, I know the Inn doesn't truly exist, but in my mind it does, so please don't even attempt to convince me otherwise. The doors, the floors,the windows, the fireplaces, the bar that holds the liverwurst sandwiches and buttermilk. I adore every single inch of the place and like many, feel destined to live in a place just like this one.
The train:
The 4 of them sitting in the train club car late into the night, the girls sipping on ginger ale and a milkshake while the bartender prepares cocktails that look like snow. The singsong of the conductor as he announces Pine Tree...coming into Pine Tree. The bunk bed sleeper car on the train, falling asleep in Miami and waking up in Vermont, I love each and every bit of it.
The Taxi:
A 1950 Plymouth Special De Luxe Station Wagon. This vehicle is enough to make me swoon. When it pulls up in front of ''my'' Inn I can hear the crunch of gravel beneath its tires and imagine the warmth of the wood panels beneath my fingertips. It is my hope this vehicle is preserved in someone's garage, or a museum somewhere.
The Costumes:
The characters are so well defined through these costumes. I could say I love every single costume worn by every single character, and that would be accurate. Yet a few favorites stand out. Designed by iconic, award
winning designer Edith Head
are still breathtaking by todays standards.
Starting with the over the top Christmas costumes in the final number, a sketch of Betty's dress, which I found below sent me over the moon! Yet its is also the everyday pieces, travel wear, and those knock out performances pieces that leave me dreaming.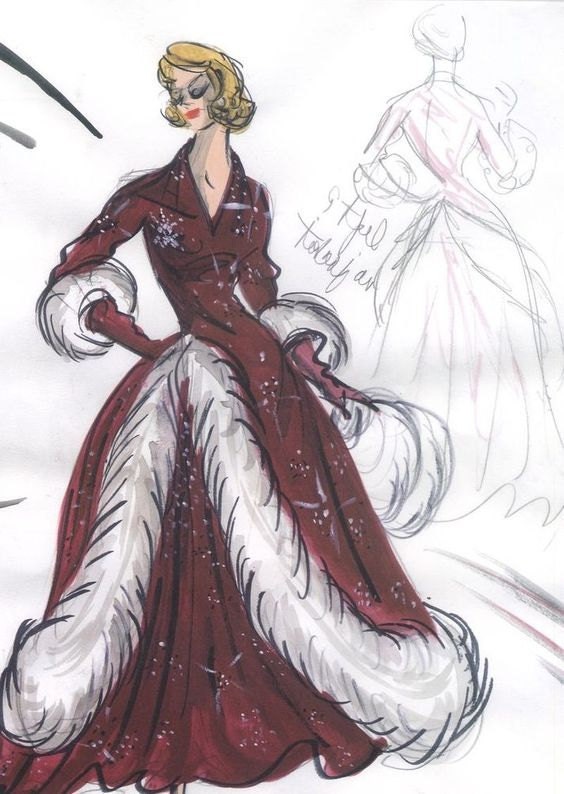 1. Judy arrives at the Inn wearing a touch of leopard on her hat, on her coat, and in that magnificent handbag. Yow.
2. Judy again wearing that checked skirt with the white turtleneck, black sweater and red belt as she seduces Phil into their phony engagement.
3. Phil, right before his modern dance dress rehearsal. What is it he is wearing? It has my heart. A cuffed pair of trousers, and is he barefoot, or are those suede loafers? It works. Plus, the way he flicks his cigarette at the end of that conversation with Bob, well, well let's just say, I wish I had thought of it.
4. Betty in that dress at the Carousel Club. Breathtaking. Has there been a hollywood black velvet to compare?
5. The way Bob wears a sportcoat, and the way Phil wears a slouchy sweater. Madness.
6. Never to be forgotten, the General in uniform in both his opening and closing scenes. Commandeering!
The Dancing:
Vera-Ellen as Judy. I've never seen anyone move like her; that waist, those tap shoes, her amazing abilities, from tap to gymnastics. Plus, Phil, light on his feet in every number and with such aliveness and humor, especially in that quirky Modern Dance Choreography number. I can't imagine anyone but Danny Kaye playing Phil, yet he was actually the third choice for this roll.
Perhaps the best things do happen while you're dancing, as shown in that wonderful outdoor dance number at Novella's in Miami, and lets just talk about Novella's. I dream of places, just like that one, existing still today, on the water with swaying palm trees. Robert Alton was credited with choreography for this movie with Joan Bayley as assistant, yet I've read rumors of a young Bob Fosse being uncredited.
The songs:
I have to stop here, or I'll never stop.Lets just say the songs stay in my head for days after I see this movie, no matter how much I attempt to get them out of there. So dig up your loafers, your pumps and your pearls and catch a showing at your local theater, or request that they bring in a showing and create a new tradition in your town. Most of all,, keep dreaming....
Cashmere and pearls for a night at the theater. 
---
Share this post
---
---
---
0 comment